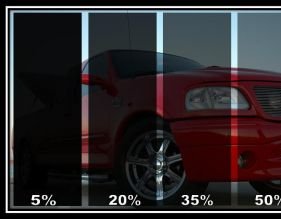 Tint & Audio fit window tinting film to any vehicle. We use high performance scratch resistant window tint films to give your car windows a professional flawless finish that will enhance the look of any vehicle.
What is high performance tint?
The high performance window tint is a dyed metal, hybrid construction film. It is scratch resistant, has superior heat rejection and anti glare reduction. Excellent optical clarity and also comes with a life time guarantee knowing your car is getting the best possible window tint application. The guarantee covers the tint from fading, peeling and bubbling.
Shades to choose from:
5% Limo

20% Dark Smoke

35% Medium Smoke

50% Light Smoke